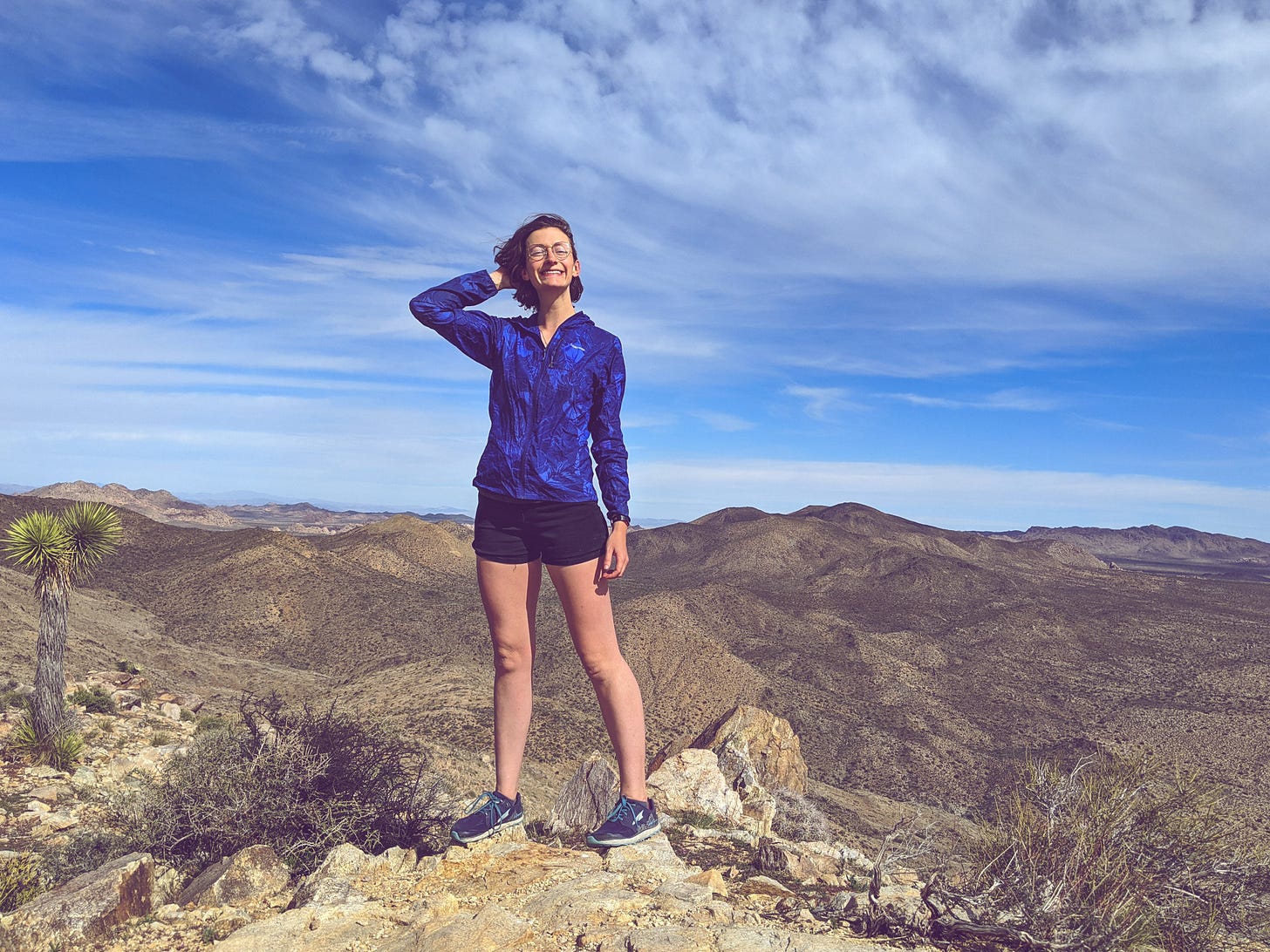 Hey there folks - I hope you're all having a lovely weekend (the few hours that are left of it). Getting things out a bit behind schedule the last few days thanks to an absolute bear a workweek and some good ol' fashioned quarantine depression, but we're going to keep things rolling.
For volume two I wanted to give you all a little more information on why I chose a remote job over some other popular career options among vanlifers/nomads, and provide some tips on how I landed my job as a content marketer for B2B SaaS companies without a real background in tech.
I hope the info below finds you well and, as always, I'd love to hear from you in the comments of this post or through my Instagram.
Stay weird.
Allie
P.S. Selected volumes of The Dirtbag Professional will now be appearing in one of my favorite dirtbag publications, The Dust Mag. Go check them out if you're into adventures, desert musings, and good stories from strange people.
---
Before I quit my corporate job in 2016 I was commuting three to four hours per day from Fort Collins, CO to Denver. I'd wake up at 5 a.m., put on some slacks and a sweater to cover my tattoos, drink an unholy amount of coffee, eat whatever food I could find, get in my car, and queue up an episode of a podcast or audiobook about adventure. For those few hours, as I sat in gridlock traffic with a bunch of people who were probably doing the same thing, I daydreamed that I was doing something as interesting as the people in those stories.
Now when I describe it like that it sounds like it sucked, doesn't it? To be honest, a lot of it did. But working that job taught me a lot about myself and my values that I probably wouldn't have learned if I had gone straight from the newsroom to a remote tech company.
I learned I needed a job that offered schedule flexibility beyond two weeks of vacation a year. I learned I wanted to do work that taught me different skills every day. But, most of all, I learned I needed a career that didn't require me to play a manicured version of myself during the day and moonlight as my authentic self the rest of the time.
Or, in the lyrical styling of one of my all-time favorite bands, Cage the Elephant, "Tell me how hard will I fall if I live a double life?" The answer, pretty damn hard and--at least for me--a paycheck wasn't worth the crash and burn.
So I started asking all my dirtbag friends what they did for money. I searched for any podcast, web forum, radio show, book, or loud cafe conversation about making a living outside of an office job.
Now, most of the folks around me worked odd seasonal jobs, had some degree of family wealth to tap into, freelanced, or had found semi-permanent gigs that allowed them to work for a few months and then take a few off to travel.
Thanks to some truly, spectacularly irresponsible financial choices I made in my early twenties (largely around buying gear and other fun toys as a form of escapism), I wasn't in a position to take a job that didn't guarantee some form of earning consistency. This ruled out most seasonal gigs and freelance work (at least as my primary job). Fortunately and unfortunately for reasons I'll get into at a later date, I don't come from generations of family wealth I could lean fully or partially onto.
So that left semi-permanent work, positions where I could grind away for a few months in exchange for longer windows of freedom at a time. After countless conversations with my then partner, friends, and family, I decided that travel nursing would be the best way to achieve this goal. (Fun fact: I would have been a fifth-generation nurse on my mom's side of the family. Fate, or something.)
I'd get a temporary marketing gig that I could work while going to school for my Bachelor's of Science in Nursing. I'd save up for a used Sprinter van, convert it myself, work locally for a few years, and then solo travel on and off until I paid off all my debt and found the right town to put roots down in.
I researched nursing schools and decided to do my prerequisites (all those science classes that journalism school didn't require) at a local community college. I applied in and got my letter of acceptance while in the entrance line for my first Burning Man (more about that at a later date, too).
I had a plan, or I thought I did.
As I was stepping in the elevator to leave work for my meeting with the nursing school's admissions department, I got a call from my dad that my aunt had died. I went to the meeting after we hung up, in shock but determined to do this thing I had set my mind to because that's what she would have wanted. But in the coming weeks, as our family broke apart from the grief of her death and a car crash landed my dad in the hospital, everything shifted.
Be it the result of some kind of cosmic warning, or just the kind of shift that happens from having your entire support network uprooted, my vision for what I wanted had changed.
Over the next two months, as I tried to find ways to make my rigid work schedule more flexible so I could help my dad and be with family, the tension of it all reached a climax. During one of my trips back up to Fort Collins, I sat down in a 24-hour cafe and applied for about 30 open positions in three hours (tailored cover letters and all) based on a list of everything I wanted in a remote job.
That list looked something like this:
My next job must support 100% remote work.

My next job must involve writing or creating in some way.

My next job must offer good health insurance.

My next job must have a team of enthusiastic, morally-driven people.

My next job must pride themselves on the fair, ethical treatment of their clients.

My next job must support professional development and learning.

My next job must pay more than my current salary.

My next job must be OK with my living the #vanlife.

My next job must help me take care of my dad.

My next job must have a good vacation policy.

My next job must offer me autonomy.
If that looks like a lot of things to be asking for in your early career, or if the only element of a remote job that has mattered to you is the "remote" part, I offer this advice: Remote work is great, but once you're parked in an amazing place with a stunning view it's still going to be a job. There are days you'll have to stay in your house or van and work and not do something rad at all. If you don't enjoy it, it's not going to be sustainable. Ask for more than the ability to do something you're indifferent to in a new place every week.
Now, did I apply for a few jobs that didn't fit that list entirely? Absolutely. Desperate times and all that. But as the universe has a way of ensuring, those opportunities fell through. After a few months (you read that right, remote work often takes months of leg work to land) of taking video calls in my car and cafes, two opportunities arose: one as a marketing manager for bicycle outfitters and manufacturers and my current job as B2B SaaS content marketer.
It was a hard choice, and the offers came in within a day of each other. On one hand, the outdoor marketing company was in an industry I cared about, had great benefits, and a higher offer. But they wanted some amount of in-office work, and I knew that it wasn't going to be a good long-term fit.
On the other hand, the offer from Animalz--my current company--ticked all the boxes of that list above. Every person I talked to was more enthusiastic about what they did than the last. And each of the three interviews I did was with a woman in the company's leadership.
I was floored. And, honestly, hella intimidated. The idea of working for a remote startup was yet another 180 switch from a nearly-50-year-old law firm and a print newsroom. Plus, I didn't have a formal background in tech. No joke, when asked about my coding background, I owned that I learned it by messing around with HTML on Neopets, Myspace, and niche web forums for the 10 years prior.
But while I didn't receive much real training for technical skills aside from the odd web design and lite programming classes in journalism school, I had always found technical skills interesting and loved the practice of learning them. During my "temp" marketing job before the remote switch, I had taken on a course in data analytics and database management and started learning more front end web development on the side. By the time my interview with Animalz rolled around, I knew just enough to know how much I didn't know.
More importantly, and I think the main reason Animalz liked me, is that I had learned how to grasp concept skills quickly. I think that's actually the secret to being a strong candidate for remote work, no matter what industry you're looking at. Companies who support partially or fully remote workforces already know tech to some degree, and they move fast. You simply aren't afforded the time or guidance you get in an in-person office job, and being able to adjust and learn on the fly is what separates you from the other tens of thousands of folks wanting remote gigs.
Of course, I'd be tone-deaf not to acknowledge the strange times we're in with COVID-19, and the mass shift it's caused companies to take toward working remotely. Which is great, truly. I've seen businesses who swore they could never make it work pivot in two weeks to modernize their operations. But as all this chaos settles into a new normal, a new age of best practices and in-demand skill sets are going to shake out, and you--and me, and everyone else--will need to be ready to adjust.
So, if you can learn anything from my journey to this point, take this time to line out what you want, get your hands dirty in learning anything that interests you, and get comfortable doing some uncomfortable things that you care about. Oh, and apply for a bunch of jobs with tailored cover letters.
Or, in the words of the late and great Ram Dass: "You can do it like it's a great weight on you. Or you can do it like it's part of the dance."